From this page you can download free resource packs for use in your classroom. At the moment we just have two packs available but we hope to add more in the future.
We would love to hear what you think of our education resources – both what worked well and what could be improved – and what you would like to see us offer in the future. Please send your feedback to ero.searchroom@essex.gov.uk
Marconi, Aerials, Radios & Valves – Art Activity Pack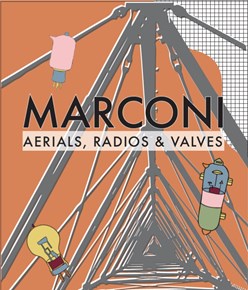 This art activity pack was developed by our Artist in Residence, Elaine Tribley to coincide with the British Science Festival hosted by Chelmsford's Anglia Ruskin University in September 2021. Targeted at Key Stage 1 and Key Stage 2, this activity pack provides a range of activities focused around the pioneering work of Guglielmo Marconi. Marconi and the Marconi Company he founded in Chelmsford developed and built the technology required for the wireless communication that we rely on today, whether it is our kitchen radio or our mobile phones. 
The activities themselves are inspired by just some of the thousands of photographs taken by the Marconi Photographic Unit and preserved at the Essex Record Office. The project to create this resource was jointly funded by the Essex Record Office and Chelmsford City Council. This and our other resources can be downloaded from our website.
Essex at War, 1914-1918
A pack aimed at secondary schools, using over 20 sources telling stories of Essex People and Places during the First World War. Hear from real people about their First World War experiences as soldiers, nurses, and women factory workers, and how Essex people reacted to Zeppelin air raids. Click here to download the teachers' notes and images.
Saffron Walden on the Map
A pack aimed at KS2 History pupils, using three historic maps of Saffron Walden to explore continuity and change. This pack consists of a PowerPoint and teachers' notes, which can be downloaded here.
Victorian Children
There are three sets of resources you can use to explore Victorian life with your students through real historical documents. Each resource takes a different approach. One makes a comparison between a Victorian school and a modern school using photographs. The second, looks at the contents of a Victorian school log book. The final resource uses the Census to look at Victorian life outside the classroom.
This and out other resources can be downloaded on our website.
The Floods of 1953
This pack aimed at KS1 and KS2 pupils contains three PowerPoints and Teachers Notes with background to the events of January 31st, 1953, along with some
suggestions for class activities linked to the PowerPoints. Activities have also been provided by the Environment Agency.
There are three versions of this pack targeted at the most flooded communities of Harwich and Dovercourt, Canvey Island and Jaywick.